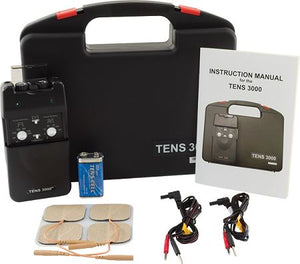 The TENS 3000 (Item #DT3002) is a Dual Channel, three-mode analog TENS therapy unit with built-in timer.

This user-friendly, exceptional quality TENS unit boasts the latest in microprocessor technology, featuring precise dial and timer performance. A Safety Amplitude Cap comes standard, which closes the amplitude knobs to protect the user from accidental knob movements that may result in jolts of power.

Mode Specifications:
Burst Mode ("B")

: Bursts occur twice per second. Pulse width adjustable; frequency fixed at 100Hz.

Normal Mode ("N")

: Continuous stimulation

Modulation Mode ("M")

: Pulse Rate is automatically varied in 10-second looping cycle. Pulse rate linearly decreases by 40% over four seconds, remains constant for one second, then linearly increases back to its original value over a four-second period. Cycle then repeats.

Technical Specifications & Features:
Manufacturer Item Number

: DT3002

Channel

: Dual, isolated between channels

Pulse Amplitude (Intensity)

: 0-80mA each channel (500 ohm load)

Pulse Rate

: 2-150 Hz, Adjustable

Pulse Width

: 30-260 microseconds, Adjustable

Microprocessor Technology for precision dial performance

Wave Form

: Asymmetrical Bi-phasic Square Pulse

Timer

: 15 minutes, 30 minutes, or Constant ("C")

Voltage

: 0-40V (Load: 500 ohm)

Max Charge Per Pulse

: 20 micro-coulombs

Power Supply

: 1x 9 volt heavy-duty battery only




Battery Life

: Approximately 5-10 hours at normal settings

Weight

: 115 grams (~4oz), with battery included

Dimensions

: 3.75" (H) x 2.56" (W) x 0.93" (D)




Package Includes Everything Needed To Start Treatment Right Away

:





1x TENS 3000 Analog TENS Unit

45" Lead Wires

1x Package Of 4x 2" x 2" White Cloth Self-Adhesive Electrodes

1x 9V Battery

Hard Plastic Carrying Case

Instruction Booklet